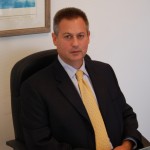 Curt Ward has been with the Firm since 1989 and is its managing partner.
Curt has successfully handled many personal injury cases. He has obtained significant awards and settlements for his clients in very complex personal injury matters. His practice includes cases involving motor vehicle accidents, medical malpractice, wrongful death, slip and fall and products liability. He has earned a well deserved reputation for tirelessly working for his clients who have been injured and always keeping his clients well informed. He is personally involved in each case to assure the most favorable results.
Curt also handles commercial and other civil litigation matters including shareholder and partner disputes; cases involving covenants not to compete, commercial disparagement, and misappropriation of trade secrets; real estate litigation including representing large commercial and residential landlords; breach of contract lawsuits; construction litigation, including performance disputes and mechanics' liens; collection cases; employment litigation; representing bars and restaurants in litigation involving their operations and liquor licenses; and family law and divorces. With approximately 30 years of trial experience and a substantial business background, he is able to effectively handle the most complex commercial lawsuit. Curt takes pride in making sure that even his most sophisticated business clients understand the nature of the lawsuit in which they are involved and how the law pertains to that case.
Curt has also successfully handled many cases in Orphans' Court (Pennsylvania's probate court) with regard to disputes involving administration of estates and beneficiaries of trusts and estates. These cases can be emotionally charged and often difficult but Curt's steady and thoughtful approach allows his clients to understand the law and facts of the case and to ultimately make sound and well reasoned decisions.
Professional Memberships
Montgomery County Bar Association
Pennsylvania Bar Association
Pennsylvania Trial Lawyers Association
Montgomery County Trial Lawyers Association
Admissions
Pennsylvania, 1988
U. S. District Court, Eastern District of Pennsylvania, 1988
Education
Indiana University (B.S., 1984)
Wake Forest University (J.D., 1987)
Professional Activities:
Over the years, Curt has worked with our younger attorneys to provide guidance and mentoring in litigation matters.
Select Practice Areas
Business and Commercial Litigation (state and federal court)
Shareholder and Partner Disputes
Liquor License Litigation (violations, renewals and revocation litigation)
Landlord/Tenant Matters
Will, Estate, and Trust Litigation
Real Estate Litigation
Construction Litigation
Personal Injury Litigation
Employment Litigation
Insurance Litigation
Family Law and Divorces
Consumer Rights and Fraud Litigation
Collections
Minor Criminal and Driving License Matters
Personal
Curt lives in Collegeville and has three children, Will, Maddie and Colin. Curt is an avid biker, often riding the great trails located in the Philadelphia area. He enjoys travel and spending time with his family and friends.
Surprising factoid: There was a point in Curt's life when he chose between attending law school and becoming a certified public accountant (having passed all 4 parts of the CPA exam.)